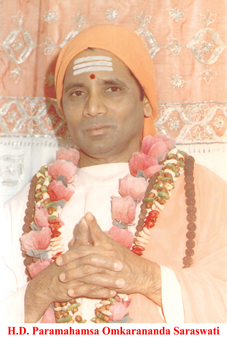 "His Divinity
Paramahamsa Omkarananda Saraswati,
Founder Omkarananda Saraswati Nilayam"
VISION:
With a view to impart quality education to the people of Uttarakhand, especially this area of Rishikesh, H.D. Paramahamsa Omkarananda Saraswati planted in the year 1983 a small sapling with a few petals, which has now blossomed into a full-grown tree, i.e. Omkarananda Saraswati Nilayam (OSN). It started with five tiny tots and is now a Senior Secondary Inter-College with 2500 students, having state-of-the-art infrastructure, grand buildings, mini auditorium, a spacious indoor sports stadium, smart classes, labs, etc.
Swami Omkarananda's vision can be summarized in His message:
"Think Like a Genius,
Work like a Giant,
Live like a Saint."
With this motto we aim to provide the best modern quality education, inculcating in young minds the Vedic cultural, spiritual values, so as to make them ideal leaders of tomorrow.



His Holiness
Shri Swami Vishveshwarananda Saraswati,
President Omkarananda Ashram Himalayas
MISSION:
Thinking like a Genius, Working like a Giant and living like a Saint, Shri Swami Vishveshwarananda undertook this gigantic task of providing education, not only in and around Rishikesh, but also for the people of the remote hilly areas of Uttarakhand, for which he has been specially honoured by the Government of India. He also received several prestigious Awards, like "Pride of Uttarakhand Award", "Rashtra Shakti Award", etc.
With the Blessings of H.D. Gurudev Paramahamsa Omkarananda Saraswati and the untiring hard work of Swami Vishveshwarananda Saraswati, Omkarananda Saraswati Nilayam is coming up to great heights, excelling in every field, producing finest minds, doing us proud for their glorious achievement in every field. Today, the school stands second to none for its glorious performance, striving to be a centre of excellence.